---
The State of Islamic Studies in American Universities

The International Institute of Islamic Thought (IIIT) hosted a Colloquium on Saturday, Dec. 2, 2017, with the objective to review the IIIT publication, Observing the Observer: The State of Islamic Studies in American Universities.
---
Original contributors to the book, such as Dr. Zahid Bukhari (Center for Islam and Public Policy) and Dr. Marcia Hermensen (Loyola University), attended the day-long proceedings. Academics in the field, including Dr. Kecia Ali (Boston University), Dr. SherAli Tareen (Franklin & Marshall College), Dr. Younus Mirza (Allegheny College), Dr. Maria Dakake (George Mason University), Dr. Jonathan Brown (Georgetown University), and Dr. Feryal Salem (Hartford Seminary). Moreover, the following representatives of Islamic higher education institutions were also present: Dr. Abdullah bin Hamid Ali (Zaytuna College) and Munir Shaikh (Bayan Claremont).
Dr. Ermin Sinanović, Director of Research and Academic Programs at IIIT, began the Colloquium with a brief background of Observing the Observer and IIIT's intention to publish an updated version in the near future that captures current trends in Islamic Studies at universities. Dr. Hisham Altalib, President of IIIT, and Dr. Abubaker Al-Shingieti, Executive Director of IIIT, offered welcoming remarks to the participants. All three recognized the contributions of Dr. Mumtaz Ahmad and Dr. Sulayman Nyang, co-authors of the volume along with Dr. Zahid Bukhari, as well as Dr. Jamal Barzinji and Dr. Fathi Malkawi who greatly contributed to the volume.
Dr. Zahid Bukhari admitted that talking about the book is painful since both Dr. Jamal Barzinji as well as Dr. Mumtaz Ahmad, who were intimately connected with the publication, are no longer with us, and Dr. Sulayman Nyang is undergoing health challenges. He explained that the book took shape in the aftermath of 9/11 when the increasing interest in Islam led to the need to analyze the state of Islamic Studies in universities. In addition to outlining the objectives of the volume, he shared that the authors had submitted case studies and policy recommendations too which could possibly be considered and built upon in a future publication.
Dr. Marcia Hermansen indicated the ambiguities associated with the title: who is observing and who is being observed? She acknowledged that many things have shifted in the field. For instance, Islam is no longer marginal or exotic, but quite central, and as a result, the heat has increased and it has become part of culture wars. Further, the demographics have changed: there are many more Muslims in the United States now and this is felt in the incremental numbers of Muslim students and graduate students. She also added that the bar for knowledge of Arabic is much higher on a graduate level now than it was when she herself earned her Ph.D.
In the session titled, "Identifying Prospects and Challenges" and chaired by Dr. Darakhshan Khan, IIIT's post-doctoral fellow, Dr. Kecia Ali spoke of challenges of the moment, not only for Muslims but also higher education in general. From helping people to see Muslims as human beings and complicating Islam to the crisis of adjunctification, assault on humanities, racist and gendered policies, she talked of the numerous difficulties faced by faculty today. Dr. SherAli Tareen discussed new issues that have emerged in the study of Islam that were not as prominent at the time when the research for the book took place, such as the quest to find moderate Muslims and this tendency for seeking meaning whether it be for acts of violence or rituals. Furthermore, he talked about integrating the disparate Islamic Studies and Secular Studies by showing on the one side the internal workings of our discursive tradition while on the other, disrupting liberal binaries.
In the next session, titled "Pedagogical Innovation and Tools" and presided by Dr. Abubaker Al-Shingieti, Dr. Younus Mirza discussed the diverse translations that he uses in his classroom along with what distinguishes them from one another. He illustrated this through the numerous ways in which Surah Duha has been translated by various translators. Dr. Maria Dakake articulated the importance of looking at both the text as well as the context. She also mentioned some strategies she uses to engage students with the text, such as thinking of the text as a hologram: depending on where you're standing, it looks different. Dr. Jonathan Brown stated that students find contemporary writing to be more engaging than historical texts and he utilizes them to teach legal theories interactively. In his experience, he has found that, through Islam, students are coming to terms with who they are and what their traditions say.
During the last session, titled "Theological Schools and Islamic Colleges" and moderated by Dr. SherAli Tareen, Dr. Abdullah bin Hamid Ali traced the origins of Zaytuna College, the first accredited Muslim liberal arts college in the United States. He explained that Zaytuna College is able to teach Islam as a normative tradition and does not face the sort of pressures mainstream academic spaces deal with many times. Dr. Feryal Salem shared the history of Hartford Seminary and its phases vis a vis Islam: it began as a Christian mission with goal of conversion, shifted toward Christian engagement with Islam, and eventually evolved into a more dialogic Christian-Muslim relations. She also spoke of the first appointment of the Scottish Dr. Duncan Black Macdonald to teach Arabic and Islamic Studies in 1892 and his long tenure, leading to the Hartford Seminary's Macdonald Center for the Study of Islam and Christian-Muslim Relations, which opened in 1973. Munir Shaikh outlined the inception of Bayan at Claremont School of Theology, which began offering courses in 2011. Overtime, Bayan Claremont has opted an intensive and hybrid format for its degrees, so that students are required to be on campus for a short period of time whereas the rest of the teaching and coursework takes place online.
Dr. Ermin Sinanović led the Concluding Discussion where the main takeaways and next steps of the Colloquium were considered. He informed the participants that IIIT intends to conduct its 2018 Summer Institute for Scholars around this theme. Participants provided their feedback on the themes covered during the day and expressed their appreciation for the opportunity to contribute to the Colloquium.
Recommended Posts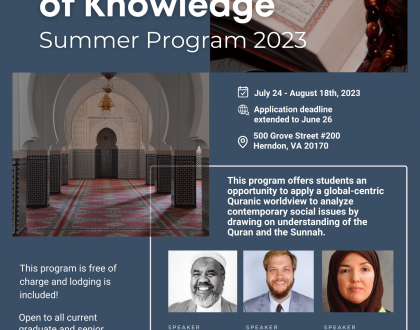 July 27, 2023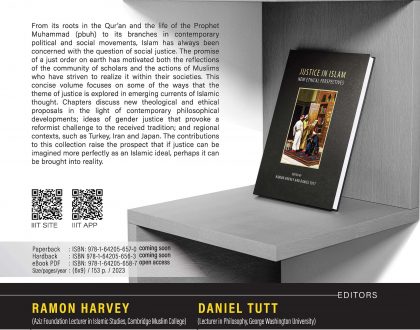 June 14, 2023