---
Research Summer Programs
The International Institute of Islamic Thought (IIIT) held its 10th annual Summer Institute for Scholars, July 26-29, 2017. The Summer Institute is an annual meeting dedicated to the study of contemporary approaches in Islamic thought, that brings together senior and emerging scholars in order to present papers and participate in panels and in-depth discussions focused on themes pertinent to the Institute's mission.
---
This year's theme, "Theologies and Ethics of Justice: New Directions in 21st Century Islamic Thought," sought to examine the theological and ethical conceptions of justice along with liberal philosophies grounded in identity terms and their impact on questions of justice. In doing so, participants explored questions of personal responsibility, structural causes of oppression, hierarchy as well as equality in Islamic thought, and racial/gender justice in an Islamic normativity framework. The format of the Summer Institute provided ample time for discussion, enabling many conversations and much debate, which were often carried forward outside the structured panels.
The 2017 Summer Institute was directed by Ermin Sinanović, Director of Research and Academic Programs at IIIT. The Keynote Speaker was Dr. Khaled Abou El Fadl, Omar and Azmeralda Alfi Professor of Law, UCLA. Special speakers included Dr. Ramon Harvey, Lecturer in Islamic Studies, Ebrahim College, London; Dr. Jonathan Brown, Alwaleed bin Talal Chair of Islamic Civilization at the Walsh School of Foreign Service, Georgetown University, and Dr. Amaarah DeCuir, president and founder of Paragon Education Consulting.
The following paper presenters attended the Summer Institute: Monir Birouk, a Ph.D. candidate at the University of Mohammed V in Rabat; Jamila Davey, doctoral student at the University of Texas, Austin; Ramon Harvey, lecturer in Islamic Studies at Ebrahim College, London; Said F. Hassan, senior lecturer at al-Azhar University; Samaneh Oladi, Assistant Professor at Virginia Commonwealth University; Xiaofei Tu, lecturer at Appalachian State University, and Daniel Tutt, lecturer at Marymount University.
The second annual Alumni Seminar preceded the Summer Institute. The Alumni were present for the entire Summer Institute. They included: Azzedine Azzimani, visiting assistant professor at Trinity College, Hartford; Jibreel Delgado, a Ph.D. candidate at University of Arizona, Tucson; Shehnaz Haqqani, a Ph.D. candidate at the University of Texas, Austin; Muhammad Rahman, Fulbright Scholar at Old Dominion University, Norfolk, and Serhan Tanriverdi, a Ph.D. candidate at Loyola University, Chicago.
Lastly, the 2017 Summer Institute was also attended by the 2017 Summer School Program cohort of 18 students – they joined the Summer Institute after completing their initial weeks of intensive courses in Islamic Studies. While the students and the alumni did not make any presentations during the Summer Institute, they were encouraged to participate by asking questions during the discussion segments. In this way, many of them contributed meaningfully.
More pictures on Flickr
Recommended Posts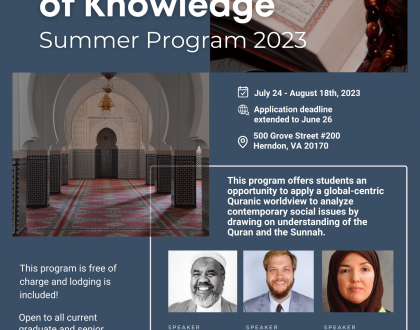 July 27, 2023