---
Opening Day at IIIT/TFI Summer Students Program 2016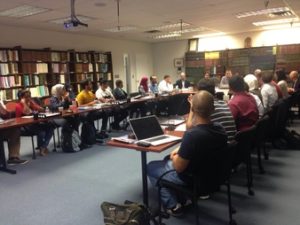 On Monday, July 11, 2016, The Fairfax Institute and the International Institute of Islamic Thought initiated Opening Day of the annual Summer Student in the Al-Faruqi Library.  Students prepared for an intense 5-week program in Islamic Studies, with world-class faculty at their fingertips! The opening session included words by Dr. Hisham Altalib, Dr. Ermin Sinanovic, and Dr. John Voll. Dr. Younus Mirza participated in welcoming events, along with IIIT and TFI staff members, Obay Altalib (Director of Marketing). Saber AlKilany (Library Director), and Shazia Farook (TFI Program Manager).
The signature Summer Student Program invites graduate students annually from all over the United States and Canada to take part in this residential learning program. With courses like Approaching the Quran, Contemporary Islamic Thought, Approaching the Sunnah, Islam in America, and Muslim History and Civilizations, students are able to deeply explore research areas in the various aspects of theology, and engage with professors regularly on these issues.
Today's inaugural session was taught by Dr. Abdulaziz Sachedina, on Methods in the Study of Islam. He stated, "Throughout your research experiences, there are always ways to combine interdisciplinary approaches. What matters is how you apply your approach as a scholar."This program will be in session until August 13, 2016. 
Recommended Posts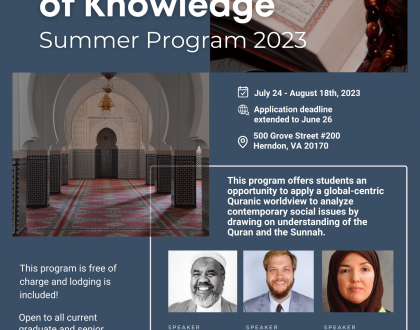 July 27, 2023