---
Contemporary Islamic Thought Book Project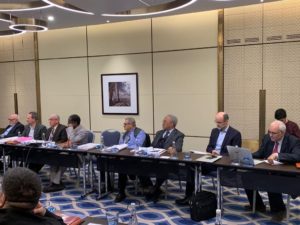 The International Institute for Islamic Thought (IIIT) organized a session in the Turkish city of Istanbul on March 18-20, 2019 to discuss the reference book project "Contemporary Islamic Thought: Realities and Ambitions". The purpose of compiling this book is to define the phrase "Islamic Thought" in IIIT's name, to express the viewpoint and message of the Institute, and to be a basis for the possible future publication of specialized books on Islamic Thought in the fields of education, psychology, economics, and politics, among others.
The idea to publish this book passed through several stages, beginning with the foundational paper which was discussed in two sessions, the first in Amman on December 30, 2017 and the second at the IIIT Academic Council meeting during the conference in Istanbul on March 2-3, 2018.  The Jordan office was tasked with moving forward in composing, reviewing, and publishing the book.
Twenty participants attended the discussion session, including nine writers, four non-writer reviewers, and IIIT staff members.
The book, in its current form, is composed of nine sections authored by ten academics. Three scholars participated in the review of each section, some of whom were among the authors. Reviewers' notes were sent to the writers, who in turn made the necessary changes. Then, the complete book was sent to all writers, reviewers, and IIIT staff to submit written comments on the book in preparation for its discussion during the session.
Five sessions were held. Dr. Hisham Altalib, President of IIIT, and Dr. Fathi Malkawi, the book editor, spoke at the opening session. In addition, writers and reviewers chose two representatives to speak on their behalf; Dr. Abdel Majid El Najjar and Dr. Elsayed Omar respectively.
There was a total of three work sessions, where three of the nine book sections were discussed in each session. The sessions began with each author presenting a summary of the chapter s/he wrote, followed by comments from the participants, and finally writers' observations about the discussion.
The purpose of the fifth session was to express opinions about the book as a whole, including its goals, the book title, the chapter titles, general topics the participants thought the book should include, and recommendations that the editor was expected to take into consideration.
Open discussion continued on the third day, which included a trip to the Sea of Marmara.
The following are the most important recommendations reached during the sessions:
The editor will inform each author of the crucial recommendations from the reviewers.
The editor will ensure consistency of the book in presentation and style.
Ensure clarity and consistency in the use of terminology throughout the book and add a glossary of terms and their definitions in an appendix at the end of the book.
Review the chapters, make final edits, and publish the book in a timely manner.
Ensure balance in chapters' sizes, which means adding, deleting, or merging chapters, as well as removing unnecessary literary, preachy, or emotional language, digressions, and repetitions.