---
"What Just Happened? And What It Implies for the Future of Muslim Community"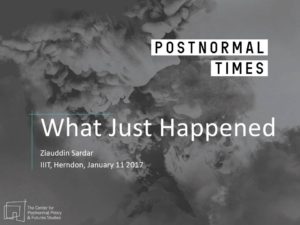 The International Institute of Islamic Thought (IIIT) hosted Dr. Ziauddin Sardar on Wed., Jan. 11, 2017, to speak on the current political climate. Aptly titled, "What Just Happened? And What It Implies for the Future of Muslim Community," the lecture explored how humanity has reached our precarious present, marked by climate change, increasing inequality, cyber attacks, populism, Trump, and Brexit.
Dr. Ermin Sinanović, Director of Research at IIIT, gave a detailed introduction of Dr. Sardar to audience members, highlighting his eminent career. An internationally renowned writer, futurist, and cultural critic, Dr. Sardar is the author of more than fifty books, including his classic studies, The Future of Muslim Civilization (1979) and Islamic Futures: The Shape of Ideas to Come (1985). A collection of his writings is available as Islam, Postmodernism and Other Futures: A Ziauddin Sardar Reader (2003) and How Do You Know? Reading Ziauddin Sardar on Islam, Science and Cultural Relations (2006). His two volumes of autobiography, Desperately Seeking Paradise: Journeys of a Skeptical Muslim and Balti Britain: A Provocative Journey Through Asian Britain, have received wide acclaim. His latest books Mecca: The Sacred City (2014) has earned several international awards.
Dr. Sardar established and Chaired the Muslim Institute, London, and wrote and presented many documentaries for the BBC and Channel 4. Prospect magazine named him as one of Britain's top 100 public intellectuals and The Independent newspaper calls him: 'Britain's own Muslim polymath'. A former editor of Futures, the journal of futures studies, planning and policy, he currently edits the innovative Critical Muslim quarterly.
Dr. Sardar began his lecture by sharing Oxford Dictionary's 2016 Word of the Year: post-truth. "Post-truth" is an adjective that denotes "circumstances in which objective facts are less influential in shaping public opinion than appeals to emotion and personal belief." As a result, Dr. Sardar made the observation that "truth is becoming less and less relevant." He traced this conundrum to post-modernism which has discredited any and all grand narratives. "So two generations have grown up believing that truth is relative; that my version of the truth is as valid as yours even if yours is based on evidence," Dr. Sardar remarked.
A further consequence of post-modernity has been a loss of trust, say, in politicians, experts, even doctors, among many others – essentially, in anything deemed 'normal.' Hence, Dr. Sardar observed, we've entered "post-normal times" where things are very fluid and people are anxious. An aspect of this post-normal period is an increasingly globalized world. Dr. Sardar delved into various components that distinguish today's globalized world. Firstly, scale and speed: small things explode onto the global arena very quickly. He gave the example of Pastor Terry Jones of Gainesville, Fla., and Malala, both of whom went from being hardly recognized to widely-known in a very short period of time. Next, simultaneity: crises happening all at once. The world is currently dealing with proxy wars, terrorism, cyber wars, etc., all at the same time.
In addition, he mentioned, "Complexity and contradictions in a networked world result in chaos." This can be seen in increasing inequality, possession of highest levels of wealth by a small number of people, and politicians who are unable to deal with complex issues such as poverty and minorities. When we throw in this midst social media, it compounds the problem. "Social media connects and disconnects. You end up living in a bubble, reinforcing your own views. There is no debate and discussion," Dr. Sardar explained. "All of this has come together simultaneously and has created a post-truth moment. It is not really surprising even though people may be surprised," he asserted.
Then, Dr. Sardar delved into possible and plausible ramifications that could be consequential for the Muslim community, from the emergence of the far right in the West and fake news targeting Muslims to the weaponization of artificial intelligence and even DNA. "In post-normal times, if something is technically feasible, it will happen," Dr. Sardar warned, observing that eugenics was not developed in Germany but at Harvard. At the same time, he repeatedly cautioned that these are not predictions or forecasts.
Dr. Sardar concluded his lecture by calling the post-normal times an "in-between" period that should focus our energies on the question, 'Where are we going?' As such, he called it an invitation and challenge to make the world a pluralist and inclusive place.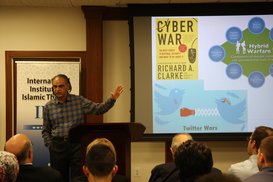 Recommended Posts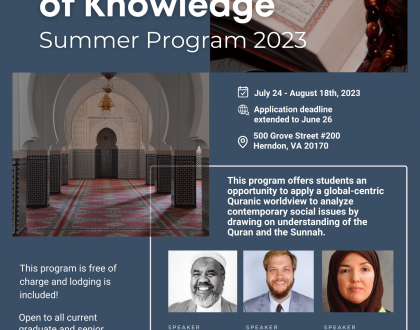 July 27, 2023