---
USA Winter Student Program Ends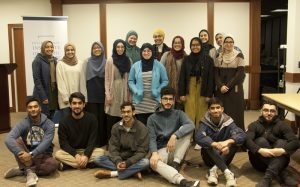 Nineteen students from the Washington Metropolitan area and states such as California and Minnesota attended IIIT's ten-day intensive Winter Student Program (WSP) on Islamic Studies for undergraduate students from January 6-15, 2020.
This year's program was envisioned with the idea of finding meaning and purpose through the study of Islam. Students took classes in three core areas of knowledge, Quran, Hadith, and Fiqh, and other foundational courses such as Muslim Intellectual History, Islam and Culture, and Islam and Human Rights. Instructors included Dr. Ovamir Anjum, Dr. Feryal Salem, Dr. Zara Khan, Dr. Maria Dakake, Dr. Sharif El-Tobgui, Dr. Michael Vicente Perez and Dr. Nancy Khalil.
Students had great things to say about the program; some said the program exceeded their expectations in every level, while others stated that IIIT's dedication to the material and content was extremely beneficial to them.
The students ended on January 15 with a graduation ceremony with Dr. Hisham Altalib, IIIT's president, as well as Kate Bridges-Lyman (MDiv, University of Chicago) -who served as the pastoral care coach for the duration of the Winter Student Program, Lina Bhatti, IIIT program coordinator, and Saber Al-Kilany, IIIT's library director. The students ultimately enjoyed the WSP and expressed their enthusiasm to return to IIIT for future opportunities.