---
Third Human Development Webinar on Cosmopolitanism and Adult Learning Attracts Global Audience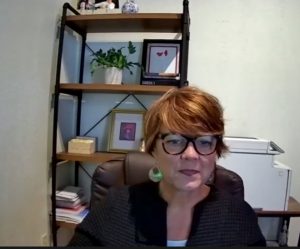 On October 15, 2020, AEMS initiative held its third webinar titled, "Adult Learning, Development, and Cosmopolitanism: Theoretical and Practical Insights from the Discipline of Adult Education," part of its Human Development series. Attendees joined from across the globe to listen to Dr. Joellen E. Coryell, Assistant Dean for Educational Partnerships and Enrollment Professor of Adult, Professional and Community Education at Texas State University, who presented on the subject. The event was moderated by Dr. Ilham Nasser, Director of Mapping the Terrain Research at IIIT.
The webinar kicked off with Dr. Nasser introducing Dr. Coryell to the audience. Dr. Coryell holds a B.A. in International Economics from the University of Illinois, a M.Ed. in Curriculum and Instruction and English as a Second Language from Texas State University, and her PhD is in Educational Human Resource Development with a concentration in Adult Education from Texas A&M University. Her research focuses on international cross-cultural adult and higher education and the investment in the professional development of adult educators and leaders. Her current research is in faculty and instructional development during higher education internationalization in Italy and adult study abroad. She has worked extensively in Italy as well as in Malawi and New Zealand. She is a former Fulbright Scholar to Italy and is the faculty lead on a Memorandum of Understanding with the University of Padova (Italy).
Dr. Coryell began by highlighting the importance of globalization and cosmopolitanism as concepts for intellectual travel to help us learn more about ourselves and others. She stated that we have experienced globalization for quite some time now, which is, "a process driven by international trade and aided by informational technology," which, "impacts culture, and human beings' experiences around the world."
She asked viewers what they hoped to gain from the session. Some answered that they wanted to think from different perspectives, others said they wanted to grow intellectually, and some said they wanted to learn more about how to make learning fun. One participant asked specifically about learning more about the concept of andragogy, which Dr. Coryell defined as the art and science of helping adults learn. In addition to discussing andragogy, she explained more about the concepts of experiential learning, transformational learning, and cosmopolitanism.
After going over these concepts and discussing different theories and methods in adult education and how to foster global citizenship even at later stages in life, Dr. Coryell then answered many thought provoking questions from the audience posed by Dr. Nasser who moderated the Q & A. This spurred an interesting dialogue on the distinction between cultural cosmopolitanism and cultural appropriation, the limitations and strengths of online learning, respecting cultural differences and celebrating those, and the role that religion plays in the world today and how religion and spirituality can be a large influence on the lens through which learners view their experienced reality. Other interesting topics which came up during the discussion included gender differences in learning and the literature which provides more information on that as well as the powerful nature of adult education and how it can be transformative at a much larger scale when infused into multiple sectors of human life, including education and policy.