---
New Azerbaijani Language Publications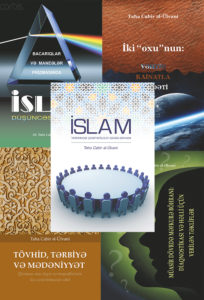 New publications of Dr. Taha Jabir Al-Alwani have been recently published in Azerbaijani language. These include:
"Two complementing readings, between Revelation and Universe"
"The objectives of Quran: (Tawhid, Tazkiya and Imran)"
Three of Dr. Al-Alwani's books were published earlier in Azerbaijani language:
"The ethics of disagreement in Islam"
"The Crisis of Modern Thought"
"Islamic Thought, an approach to reform"
Dr. Taha Jabir Al-Alwani received his B.A., M.A. and Ph.D. in Islamic Law from Al-Azhar University in Cairo. He moved to the United States in 1984 and founded the Graduate School of Islamic and Social Sciences (GSISS) in Leesburg, VA. He was president of GSISS and occupied the Imam Al-Shafi'i Chair in Islamic Legal Theory. Dr. Al-Alwani was also president of the International Institute of Islamic Thought in Herndon, VA and president of the Fiqh Council of North America. He taught Islamic legal theory for eleven years at various universities in the Muslim world. He was particularly interested in the social implications of Islamic law and was a major participant in the activities of Muslim social scientists and had been a regular contributor to the American Journal of Islamic Social Sciences.
General public, have shown great interest in the books published and have been inspired by the ideas discussed in these books. The translation project was accomplished as a result of close cooperation between IIIT and "IDRAK" Civic Organization. Furthermore, these publications have never  previously been published in the Commonwealth of Independent States (CIS).