---
IIIT-FCNA Fiqh Forum on Adoption And Orphan Care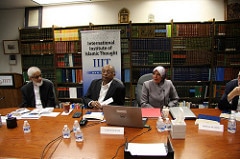 The International Institute of Islamic Thought (IIIT) and Fiqh Council of North America (FCNA) held a Fiqh Forum on the timely topic of "Orphan Care from Islamic Perspective: Kafala, Adoption, Foster Care and Beyond" on Thursday, April 13th, 2017.
---
According to a 2015 UNHCR report, 65.3 million individuals have been forcibly displaced worldwide as a result of violence – the highest number on record since the end of World War II. Due to this tragic state and its calamitous long term impact on children in particular, IIIT and FCNA came together to bring jurists, scholars, and professionals in the field to share their expert research and advice with the intention to improve the lives as well as care of orphans. One of the purposes of the forum is to compile a guide that explains the Islamic perspective on issues related to orphan care such as adoption, kafala, foster care, and beyond.
Dr. Abubaker Al-Shingieti, the Executive Director of IIIT, chaired the Opening Session. Dr. Hisham Altalib, President of IIIT, spoke of the importance and relevance of the Fiqh Forum's topic and welcomed everyone to the Forum. Dr. Zainab Alwani, vice chair of FCNA and Project Director of the Fiqh Forum, delivered the concept paper, "Orphan Care in the Qur'an and Sunnah: Critical Reading on Adoption and Kafala."
The first panel, titled "Voices from the Field," featured five professionals who work in the area of adoption, foster care, and orphans: Ranya Shbeib (Muslim Foster Care Association), Dr. Tanveer Mirza (FAITH Social Services), Zillehuma Hasan (Wafa House), Wafa Bennani (New Star Kafala), and Khalid Iqbal (ICNA Relief). Each panelist spoke of the urgency of the matter and the limited resources they have to address this mounting problem, sharing anecdotes to highlight the poignancy of the situation and the lack of support they and other foster/adoptive families face from the surrounding community. The panel was moderated by Dr. Muzammil Siddiqi, Chairman of FCNA.
The second panel shifted the focus to scholars. Dr. Jasser Auda (FCNA), Dr. Muzzamil Siddiqi (FCNA), Dr. Hatem Al-Haj (AMJA), and Dr. Abdullah bin Hamid Ali (Zaytuna College) each spoke about Islamic perspectives in the area of adoption and foster care, including terminologies and rulings. While Dr. Auda and Dr. Ali provided overviews from fiqhi literature, Dr. Siddiqi and Dr. Al-Haj spoke of "rada'ah" (nursing) and how it can be used in the care of orphans. The panel was moderated by Dr. Ermin Sinanovic, Director of Research and Academic Programs at IIIT.
The third panel continued the conversation with scholars, including Imam Hassan al-Qazwani (Islamic Insitute of America) who was unable to attend but sent his paper, Imam Mustafa Umar (FCNA), Dr. Mohammad Qatani (FCNA), and Dr. Ossama Bahloul (FCNA). This panel discussion was directed by Dr. Amr Abdalla, senior advisor of the Reform of Education project at IIIT. The panelists spoke of abandoned children, foundlings, and issues around adoption.
The fourth panel, titled "Family and Institutional Care," highlighted various perspectives ranging from the guardianship of orphans, a case study of an organization that cares for orphans in Pakistan, mental health care of orphans, and anthropological research in this area. These topics were respectively presented by Shaikh Abdur Rahman Khan (FCNA), Dr. Zahid Bukhari (ICNA), Salma Abugideiri (Peaceful Families Project), and Dr. Nermeen Mouftah (Northwestern University). This panel was moderated by Dr. Zainab Alwani.
The last panel focused on compiling recommendations that emerged during the daylong discussions and could be used to create better awareness and action with respect to care for orphans. This panel was co-moderated by Ranya Shbeib and Dr. Abdullah bin Hamid Ali.
Overall, the Fiqh Forum succeeded in bringing together the various experts in this area so that they can begin the hard work of aligning concepts and reality to better assist orphans, insha'Allah. One of the purposes of the forum is to compile a guide that explains the Islamic perspective on issues related to orphan care such as adoption, kafala, foster care, and beyond.
IIIT looks forward to working with FCNA, AMJA, and other organizations in facilitating the conversation and moving ahead to more tangible solutions.
Recommended Posts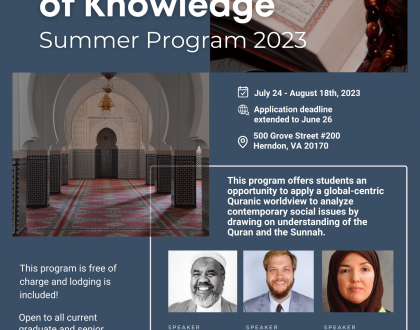 July 27, 2023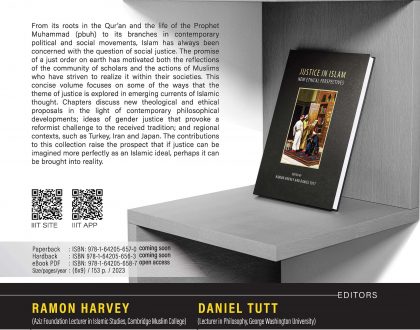 June 14, 2023