---
IIIT Al Faruqi Memorial Lecture at the 2021 Annual Meeting of the American Academy of Religion (AAR)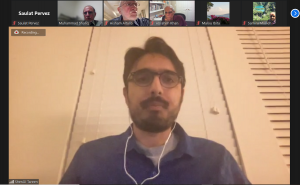 The International Institute of Islamic Thought (IIIT) held its annual Al Faruqi Memorial Lecture at the 2021 Annual Meeting of AAR on Monday, November 22, 2021. Dr. Muhammad Shafiq (Nazareth College) moderated the session where Dr. Hisham Altalib (President, IIIT) spoke about the life and legacy of Prof. Al Faruqi and the keynote speaker, Dr. SherAli Tareen (Franklin & Marshall College), delivered a talk titled, "Debating Interreligious Friendship after Empire." The lecture was followed by an interactive Question and Answer session.
To learn more about the life of Prof. Al Faruqi and the bios of Dr. Shafiq, Dr. Altalib, and Dr. Tareen, along with the abstract of the keynote speech, please visit: https://iiit.org/en/al-faruqi-memorial-lecture-2021-annual-meeting-of-the-american-academy-of-religion/.
The video of the lecture can be viewed here.