---
Hartford Seminary Posthumous Honorary Doctor of Divinity Granted to Dr. Barzinji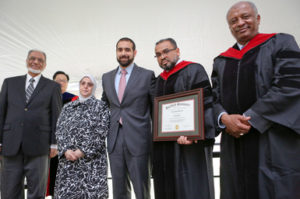 A posthumous Honorary Doctor of Divinity, honoris causa, was awarded to Dr. Jamal Barzinji, who passed away in 2015, at Hartford Seminary's graduation on May 13, 2016.
DDr. Barzinji was a pioneer in Muslim American circles. Born in Iraq, he had a PhD. and MSc. in Chemical Engineering, with a minor in Management, from Louisiana State University and a BSc. in Chemical Engineering & Fuel Technology from the University of Sheffield, England. Among many accomplishments, he served as President of the Muslim Students Association, was on the board of the Islamic Society of North America, and was a founding member of the International Institute of Islamic Thought (IIIT), where he was a Trustee and previously Vice President for Research and Publications.  He was also the founding general manager of North American Islamic Trust (NAIT), and a founding member of the Association of Muslim Social Scientists (AMSS) as well as the Association of Muslim Scientists and Engineers (AMSE).
"He was involved in almost every major Muslim association in America," Dr. Reza Mansoor, first Vice Chair of the Hartford Seminary Board of Trustees, said at graduation.
Dr. Barzinji helped to establish a variety of organizations around the world as well, such as Mar-Jac Poultry, Safa Trust, Amana Mutual Funds, SAAR Foundation, Bank Islam Malaysia, and North American Islamic Trust (NAIT). In addition, he served as the Dean of Kulliyyah (Faculty) of Islamic Revealed Knowledge and Human Sciences at the International Islamic University Malaysia.
Details
(courtesy Hartford Seminary website)
Recommended Posts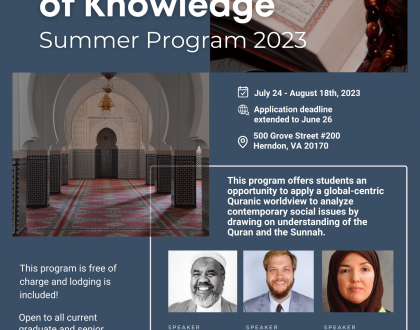 July 27, 2023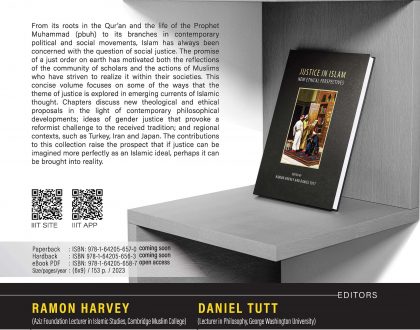 June 14, 2023