---
Findings of "Mapping the Terrain" multinational study unveiled at Indiana University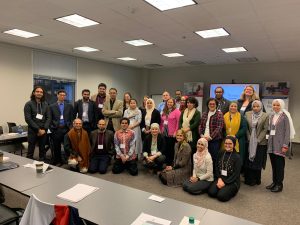 The International Institute of Islamic Thought (IIIT) continued its collaboration with the Lilly Family School of Philanthropy at Indiana University by sponsoring the Symposium on Muslim Philanthropy and Civil Society on November 4 and 5, 2019 in Indianapolis, Indiana.
The Symposium brought together thirty scholars from the US, Asia and Europe as part of IIIT's Advancing Education in Muslim Societies (AEMS) initiative. The Symposium is a regular feature of the Lilly Family School of Philanthropy's signature project – the Muslim Philanthropy Initiative.
Research presented at the conference will be published in mainstream research journals in the field including the Journal on Education in Muslim Societies (JEMS). JEMS is published by Indiana University Press in collaboration with the IIIT AEMS.
The Symposium was kicked off by welcoming remarks by Amir Pasic, Dean of the Lilly Family School of Philanthropy; Ilham Nasser, IIIT Senior Researcher; Shariq Siddiqui, Director of the Muslim Philanthropy Initiative; and Rafia Khader, Program Manager at the Lake Institute on Faith and Giving.
Ilham Nasser unveiled the findings of the AEMS multinational study, Mapping the Terrain. The research project examines issues related to "Third Space" education reform in fifteen countries with Muslim populations. Data from this ground breaking study will be available to researchers, policy-makers and educators to further the advancement of education in Muslim societies.
Sessions on Monday, November 4, 2019 focused on research that will be published in the Journal on Education in Muslim Societies (JEMS). Thirteen research papers were presented on this first day. The first panel examined Muslim education nonprofits in Ghana, why Pakistani madrasah's may resist government reforms, why parents select private schools over government schools in India and Bangladesh and post-colonial knowledge development in Tajikistan.
The second research panel included research on social identity formation amongst Syrian girls in Jordan, impact of islamophobia on Muslim children in Muslim-minority countries and Uyghur re-education camps in China.
The third research panel included research on how curriculum may include or exclude identity for Syrian refugees in Jordan, notions of belonging amongst Rohinghya children in Bangladesh and charities in Indonesia working with the disadvantaged.
The final research panel on the first day focused on the role of family and community as educators in the US, contemporary issues faced by Islamic schools in the United States and the role of state in building democracy and education in the Muslim countries.
The day ended with a networking dinner for researchers to engage and connect. This was an opportunity to continue the conversations and develop future potential research collaborations.
The second day was focused on examining zakat in the contemporary world.