---
Fifth Annual IIIT – IU Symposium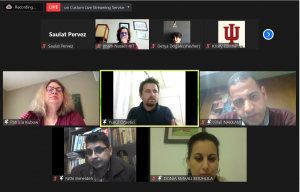 Advancing Education in Muslim Societies (AEMS): Implications for Policy, Pedagogy, and Development 
Nov. 10-12, 2021
The International Institute of Islamic Thought (IIIT) collaborated with Indiana University School of Education on its fifth annual AEMS Symposium. It took place on November 10-12, 12 pm to 3 pm daily in a virtual setting. Dr. Ilham Nasser, Director of the Human Development Program at IIIT, and Dr. Patricia Kubow, Professor, International Comparative Education at Indiana University, along with Derya Doğan, a Ph.D. Candidate in Education Policy Studies & Middle Eastern Languages and Cultures at Indiana University, and Saulat Pervez, Associate Researcher at IIIT, planned and organized the Symposium. The Symposium was opened on its first day with brief remarks by Dr. Anastasia Morrone, Dean, IU School of Education, and Dr. Ahmed Alwani, the Vice President of IIIT.
The Symposium covered six relevant and current themes, including Educational Leadership, Teacher Experiences, and Refugee Integration; Race and Minority Issues; Discursive Practices and Psycho-Emotional Challenges Facing Muslim Youth, as well as Gender and Socio-Cultural Factors. A diverse group of panelists presented their research in a host of countries such as Malaysia, Azerbaijan, Niger, South Africa, Nigeria, Egypt, Bangladesh, Jordan, Turkey, Morocco, and the United States. A special presentation titled, "Demystifying the Academic Publication Process: Breaking It All Down to Set a Foundation for Success," was delivered by Dr. Anastasia Khawaja (University of South Florida) to support researchers to effectively convert presentations into publishable journal articles. The presenters at the symposium were also encouraged to develop their presentations into manuscripts for submission to the Journal of Education in Muslim Societies (JEMS), a IIIT collaboration with Indiana University Press.
The Symposium was well-attended and resulted in active engagement in the discussion of education practices, religious education, and curriculum decisions from audience members. The Symposium was livestreamed on the IIIT YouTube channel and the sessions from all three days can be viewed there.
Click on the links below to view each session:
Wednesday, Nov 10, 2021 / Session 1 – Educational Leadership, Teacher Experiences, and Refugee Integration
Wednesday, Nov 10, 2021 / Session 2 – Race and Minority Issues
Thursday, Nov 11, 2021 / Session 3 – Discursive Practices and Psycho-Emotional Challenges Facing Muslim Youth
Thursday, Nov 11, 2021 / Session 4 – Curricular Approaches
Friday, Nov 12, 2021 / Session 5 – Gender and Socio-Cultural Factors
Friday, Nov 12, 2021 / Session 6 – Integrative Pedagogical Models