---
Emerging Scholarship in Human Development webinar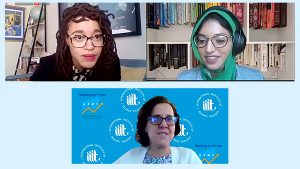 On April 8th, 2021, the Human Development Webinar Series, part of Advancing Education in Muslim Societies Initiative of the International Institute of Islamic Thought (IIIT), hosted its April webinar of the year. The Emerging scholarship webinar included two panelists who focused on two related topics. Dr. Ashley E. Cureton presented her research on "The New (Comer) Parents to The Block: Facilitators and Barriers Regarding Muslim Refugee Parental Involvement in Chicago Public Schools.
This was followed by Dr. Tasneem Mandviwala who presented on "Being while becoming: Roles of resiliencies in young Muslim American women's identity development. The presentations drew from interviews and in-depth research on Muslim immigrants, refugees, and second-generation immigrant women. The webinar was attended by more than 35 participants.
If you missed the webinar, keep a look out for the video which will be uploaded to YouTube soon.