---
Dr. Padela and Islamic Bioethics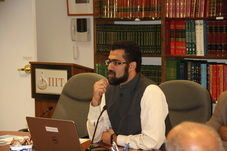 The International Institute of Islamic Thought (IIIT) hosted Dr. Aasim Padela on Tuesday, Sept. 27, for his lecture titled, "Constructing the Field of Islamic Bioethics: Why Islamic Bioethics should Matter to Islamic Studies."
---
Dr. Padela is Director of the Initiative on Islam and Medicine and Associate Professor of Medicine at the University of Chicago. He is currently a visiting fellow at IIIT and is working on research regarding human health and well-being in light of a Maqasidi approach.
Dr. Padela began his lecture by defining consumers (patients, healthcare providers, community leaders) and producers (scholars, physicians, Islamic Studies researchers, governments) in the developing field of Islamic bioethics. While many people look to the producers for expertise in the area of Islamic bioethics, the fact of the matter is that there is a lot of conceptual confusion, Dr. Padela asserted.
In a survey of Medline-indexed papers from 1950-2005, 146 papers mentioned "Islam or Muslim" and "Bioethics." Of these, only 11 mentioned more than one 'universal' Islamic position whereas only five included concepts/sources of Islamic law. Dr. Padela remarked that this implies lack of scholarly depth and presentation of a "caricature of the Islamic ethico-legal tradition as monolithic and simplistic." In short, he said, "they do not service patients of physicians," leading to a "crisis of authority in terms of Islamic bioethics expertise."
In another national survey of 746 physicians affiliated with IMANA in 2013, 85% reported being "somewhat or very familiar with Islamic bioethics" and 59% shared that Islamic bioethics "somewhat or great influences their practice." However, 55% acknowledged that they never or rarely read Islamic bioethics books; 64% stated that they never or rarely consult Islamic jurists, and 79% never or rarely review Islamic medical fiqh academy verdicts. As a result, Dr. Padela remarked, there is a "dissonance in the assumption of what we know and how we know it."
After presenting the current state of the field, Dr. Padela explained that Islamic bioethics is concerned with defining Islam, Islamic, and how that impacts identity formation of a Muslim doctor, for instance. At the same time, it seeks to add a moral dimension: What can I do v. What should I do? In other words, it deals with taking the bare minimum and elevating it to excellence (ihsan). Constructing the field of Islamic bioethics calls for "conceptual rigor and clarity as it engages with other moral frameworks and thereby provides the venue for critical engagement with the intellectual tradition and its authority structures."
In order to successfully do so, Dr. Padela highlighted the need for more research and greater communication between the fuqaha and medical professionals. The lecture was followed by a vibrant Q&A session where various participants had the opportunity to engage with Dr. Padela.
Recommended Posts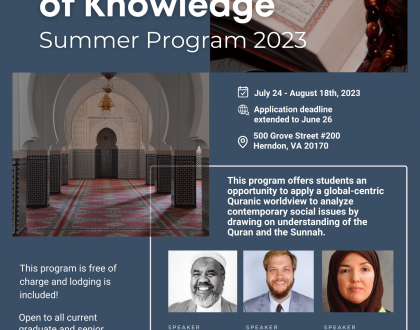 July 27, 2023