---
Dr. Malik Badri – The Father of Modern Islamic Psychology Passes on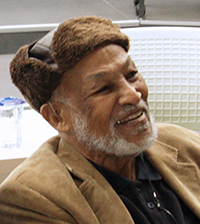 الَّذِينَ إِذَا أَصَابَتْهُمْ مُصِيبَةٌ قَالُوا إِنَّا لِلَّهِ وَإِنَّا إِلَيْهِ رَاجِعُونَ
Who say, when afflicted with calamity: "To Allah We belong, and to Him is our return"

It is with heavy hearts that we received the news of the passing of Professor Malik Badri, a longtime friend and scholar of the International Institute of Islamic Thought and author of several books published by IIIT.
We ask Allah to brighten and expand his grave and grant him Al Firdaws. May Allah grant his family patience and perseverance.
O Allah, forgive and have mercy upon him, forgive and pardon him, and make honorable his reception. Expand his grave, and cleanse him with water, snow and hail, and purify him of sin as a white robe is purified of filth. Admit him into the Garden, protect him from the punishment of the grave and the torment of the Fire.
---
It is with sadness that AMSS UK and the IIIT London Office announce the passing away of PROFESSOR MALIK BADRI on 8 February 2021.
Malik Badri, a distinguished and influential Sudanese professor of Psychology, was awarded the AMSS UK 2016 Lifetime Achievement Award in Turkey on 30 April 2018 in recognition for his profound contributions to the field of Psychology, Psychotherapy, Islamic Psychology and Clinical Psychology, as well as eminent career and scholarly achievements. The prestigious Award was formally presented to Professor Badri by Dr. Anas S. Al-Shaikh-Ali, AMSS UK Chair, and Professor Dr. Mustafa Şahin, former Rector of Selçuk University, following a lecture given by Professor Badri to the Faculty of Medicine at Selçuk University, Konya, Turkey.
Professor Badri's distinguished career saw him serve as UNESCO expert in Psychology, WHO expert in the Committee on Traditional Medical Practices as well as senior clinical psychologist in a number of hospitals. He lectured and served in the administration of several universities locally and internationally before becoming holder of the Ibn Khaldun Chair at the Kulliyyah of Islamic Revealed Knowledge and Human Sciences, IIUM, Malaysia. He finally moved to Turkey where he worked at Istanbul Sabahuttin Zaim University until his death.
Professor Badri had a long held relationship with the IIIT and AMSS UK. In July 1990 he participated in the first ever IIIT Summer School organised by the London Office jointly with OCIS at Oxford University. The event was attended by the late Dr. Taha Al-Alwani, the late Dr. Mahmood Abu Al Su'ud, Professor Imad Al-Din Khalil, Professor Parvez Manzoor, Dr. Bassam Al Saeh and other scholars. He also partici- pated in the AMSS (UK) Second Annual Conference: Social Responsibility: Challenges for the Future held 21-22 October 2000 at the Uni- versity of Westminster, London. Since 2000 he has been a regular participant at various AMSS UK events, as well as at the annual IIIT Summer Schools held in Turkey. A qualified therapist and author of many articles and books, IIIT published and translated into a number of languages, as well reprinted, some of his titles. These include the best-selling Contemplation: A Psychospiritual Study reprinted several times as well as Abu Zayd al-Balkhi's Sustenance of the Soul: The Cognitive Behaviour Therapy of a Ninth Century Physician one of IIITs most requested and popular titles. His latest title in Arabic is currently at the printers to be jointly published by IIIT and Istanbul Sabahattin Zaim University.
Deeply respected by all, the legacy of Professor Badri's intellectual contributions will continue long into the future and his passing is a great loss to the Muslim academic community.
---
Below is the obituary by the International Association of Islamic Psychology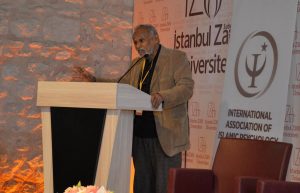 (1932 – 2021)
It is with great sadness that we announce the passing of our teacher and guide, the founder and President of the International Association of Islamic Psychology, Professor Dr. Malik Badri.
Today, Monday, February 8, 2021, Professor Malik Babiker Badri returned to his Lord in the Malaysian capital, Kuala Lumpur with his loving family by his side. We ask Allah to bless him with the breadth of His Mercy and to make him dwell in spaciousness with friends, martyrs, righteous and good companions. We ask Allah to grant mercy and consolation to the hearts of those he left behind: his family, colleagues and students in many different parts of the world.
Professor Malik, who we affectionately called "Baba Malik" was unanimously known throughout the world as the father of Islamic psychology. His pioneering and visionary work in developing this field was unsurpassed by another other. He went beyond the narrow borders of his home country of Sudan to global horizons, with his books, research and theories in psychology being admired and appreciated by major international universities and research centers. He will always be remembered for his brilliant mind and his incredible insights and contributions to the study of psychology in general. For those who knew him personally know that beyond his public work his real legacy is his enormous heart and good nature. Not only did he teach about Islamic psychology being about the purification of heart and soul, he was a living example of a pure soul.
Professor Malik dedicated his life to the development of Islamic psychology. At 89 years old he continued to give lecturers, give counsel and work on his last book all the way up until his final few months. His legacy will live on in his foundational publications, in his students, and in the mission and work of the IAIP which was his final vision for continuing the work that he started in pioneering the field of Islamic psychology.
Our hearts are heavy today but we will continue following the light that he left behind for us to illuminate the path forward. Please keep Professor Malik in your prayers and read Ya Siin for him so Allah can increase His Mercy and raise him to a high station.
Dr. Abdallah Rothman
Executive Director of IAIP
The Life of Malik Badri
Professor Dr. Malik Babiker Badri was born in the city of Rufaa', on the banks of the Nile, on February 14, 1932. He was the son of the respected scholar Sheikh Babiker Badri, who left influential imprints in the history of Sudan with his pioneering of women's education and the establishment of Ahfad University in 1907.
Professor Malik Badri earned a Bachelor's degree in Psychology from the American University of Beirut in 1956, a Master's degree at the University of Leicester in 1958, and a PhD in Leicester in 1961, in addition to a specialization certificate in Clinical Psychology in 1967. Dr Badri presented distinguished scientific research after obtaining his PhD in the Department of Psychiatry and Neurology, Middlesex Hospital, London. He held several positions, including: Assistant Professor at the American University of Beirut from 1962 to 1964, Visiting Professor and Head of the Department of Psychology at the University of Jordan in 1965, Associate Professor in the Department of Psychology and Education and Director of the Guidance and Psychological Counseling Unit at Omdurman Islamic University from 1967 to 1971, Distinguished Professor of the Ibn Khaldun Chair at the International Islamic University in Malaysia, Founder and President of the International Association of Islamic Psychology.
Dr. Badri published many books and research articles in both Arabic and English. Among his research papers published in English are: "Islam and Analytical Psychology," "Islam and Alcoholism," and "The Catastrophe of AIDS." And his books "The Dilemma of Muslim Psychologists", "Contemplation: An Islamic Psychospiritual Study" and "Sustenance of the Soul" were foundational publications in the field of Islamic psychology. His work defined a new field of specialization and he had an enormous impact in Sudan, Saudi Arabia, Pakistan, Malaysia, Turkey, and throughout the Western and Muslim world.