---
Dr. Lukens-Bull: "Indonesian Islamic Education in a Globalizing Era"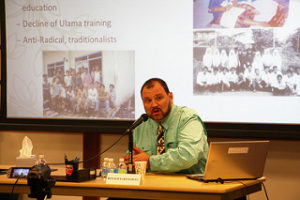 The International Institute of Islamic Thought (IIIT) invited Dr. Ronald Lukens-Bull on Wednesday, Oct. 11, 2017, to deliver a talk titled, "Indonesian Islamic Education in a Globalizing Era." Dr. Ronald Lukens-Bull is currently a Professor of Anthropology at the University of North Florida. His areas of expertise are Anthropology of Religion; Island Southeast Asia (Indonesia); Islamic Education and Leadership; Qualitative Methods; Southeast Asian Religious Experience, and Comparative Muslim Cultures.
---
 Dr. Lukens-Bull has been researching, teaching, and consulting for over 25 years on Indonesian Islamic reforms. Under colonial rule, the Dutch purposely made non-religious class as the noble class. The secular schools in Indonesia lack moral values in their curriculum, whereas, the scholars of Fiqh lack technical skills, he said. In the 1990s, the Indonesians were dissatisfied with their religious schools, which were modelled on Al-Azhar whereas Al-Azhar was starting to teach non-religious subjects. Traditionalist Muslims in Java, Indonesia, therefore, re-invented tradition through educational efforts, as they were facing the impact of globalization.
Dr. Lukens-Bull shared the example of Pesantren, an Islamic boarding school, which is a synthesis of secular and religious education. Pesantren curriculum is an important point in the strategy to encounter globalization. They have 5-6 hours of secular education and afterwards another 6 hours of traditional religious education. They also teach students household tasks such as cooking, cleaning, and laundry. Their goal is to create a society that is fully modern, globalized, and Islamically Indonesian. In this process, both modernity and tradition are amalgamated.
For Islamizing University curriculum, Dr. Lukens-Bull advised Indonesians to look at Christian Universities in the U.S. The trend in Java, Indonesia, is that the Ulama took advanced degrees in western universities in social sciences and returned to teach Islamic sciences, which raises all sorts of issues. Indonesia is also grappling with the Salafi influence and question of whether Indonesians are first Muslims or first Indonesian. Dr. Lukens-Bull suggested that Indonesians should consider all sects as Muslim and should look for values across Muslim sects. He further commented that education is the key but it is very complex and difficult as experimented in Indonesia.
The lecture was followed by a Question and Answer session during which audience members had an opportunity to engage with Dr. Lukens-Bull.