---
Dr. Cynthia Miller-Idriss Speaks at the IIIT Iftar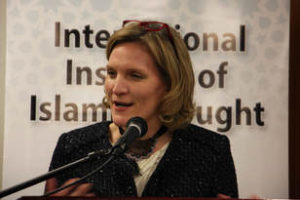 On Tuesday, May 22, 2018 IIIT held its annual Friends of IIIT Iftar/Dinner. More than one hundred guests -including scholars, interfaith leaders, politicians, dignitaries, and community members, in addition to IIIT officials and staff- came together to break their fast at the IIIT headquarters in Herndon, VA.
The program began with the recitation of selected verses from the Holy Qur'an and a reading of the translation, followed by a video presentation outlining the new project that IIIT is embarking on: Advancing Education in Muslim Societies (AEMS).
Dr. Hisham Altalib, President of IIIT, welcomed the guests and reminded them of the memorial lectures established for the three deceased founders of IIIT: Dr. Ismail Al Faruqi's memorial lecture at the American Academy of Religion (AAR), Dr. Taha Jabir AlAlwani at ISNA Convention, and Dr. Jamal Barzinji at the annual Friends of IIIT Iftar/Dinner. He informed the audience of Dr. Jamal's efforts in establishing a committee for the reform of education which consisted of six members including himself, Anwar Ibrahim, Abdelwahab Effendi, Ziauddin Sardar, Jeremy Henzell-Thomas, and Anas Shaykh Ali. Dr. Hisham explained how -during the last four years before the death of Dr. Jamal- the committee met in various countries to chart the path for the reform of education in Muslim societies, which focused not only on Muslim countries but also on Islamic schools in the US, Canada and Europe.
The keynote speaker, Dr. Cynthia Miller-Idriss, was introduced by Dr. Ahmed Alwani, Vice President of IIIT. Dr. Cynthia is Senior Strategic Advisor at AEMS and Associate Professor of education and sociology at American University in Washington, D.C. She focused her talk on the Japanese concept of Ikegai and "what I think we can learn from that in our work in AEMS as we move forward." Ikegai translates as "reason for being" and indicates a sense of purpose in a person's life. For this reason Dr. Cynthia believes that it can be a useful tool for the AEMS project, even with its significant gaps in faith, spirituality, giving, etc., which can be incorporated using an Islamic grounding as the AEMS team intends to do.
The event concluded with breaking of the fast and everyone enjoyed a delicious iftar/dinner.
Recommended Posts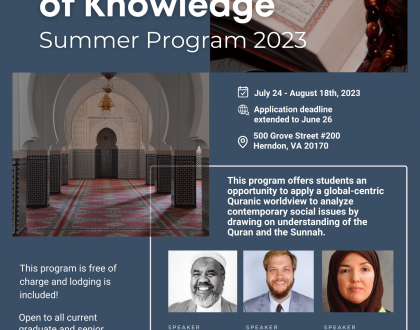 July 27, 2023