---
Union Theological Seminary launches ISJIE program in New York City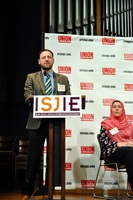 On Wednesday, March 30, 2016, Union Theological Seminary (UTS) launched Islam, Social Justice and Interreligious Engagement (ISJIE) program in New York City with a panel discussion on Muslim women leadership. Ermin Sinanović, IIIT's Director of Research and Academic Programs, attended the event on behalf of IIIT and delivered introductory welcoming remarks. He stressed the importance of social justice and interfaith engagement in Islam, and remarked on IIIT's support for the program. ISJIE is co-funded by Union Theological Seminary, the Luce Foundation, and the IIIT.
ISJIE is headed by Program Director, Dr. Jerusha Lamptey Tanner, Assistant Professor of Islam and Ministry at UTS, who – together with UTS President, Dr. Serene Jones – was most instrumental in creating this initiative. ISJIE will highlight issues of Islam and social justice from an interfaith perspective by addressing the long-standing injustices in our society, including poverty, incarceration, issues of gender and sexuality, unequitable income distribution, and many others. The program is steered by Advisory Council, whose members provide a soundboard, leadership, and expertise on issues related to Islam, social justice, and interreligious engagement.
The launching event included welcoming remarks by Dr. Mary C. Boys, UTS Dean of Academic Affairs, Dr. Michael Gilligan, President of the Luce Foundation, Ermin Sinanovic, and Dr. Jerusha Lamptey Tanner. In her remarks, Dr. Lamptey Tanner emphasized the importance of social justice in Islam. She added that the Advisory Council, by majority decision, recommended that the opening activity at this launching event should be a panel discussion on Muslim women leadership. She noted that ISJIE is about rigorous academic and public education aimed at cultivating diverse Islamic responses to social justice issues.
The panel included Dr. Amina Wadud, Iman Boukadoum, Linda Sarsour, Rabbi Dr. Nancy Fuchs Kreimer, and Prof. Omid Safi. The panel focused on Muslim women leadership and the quest for justice and equality. Dr. Wadud remarked, "there has never been a separation between notions of the Divine and social justice," further adding, "social justice is not something you do, it is something you try to be."
Toward the end of the event, Dr. Lamptey Tanner read the letter of support sent by New York Mayor, Mr. Bill de Blasio. The launching event concluded by an informative Q&A session.
To learn more about ISJIE, please visit: https://utsnyc.edu/isjie/
Recommended Posts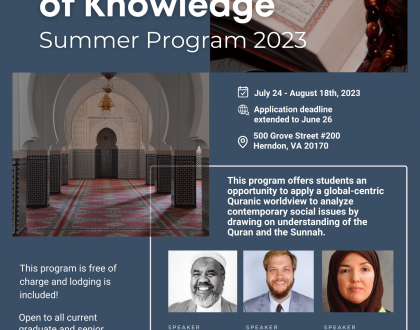 July 27, 2023