---
Building an Assessment of Community Defined Social-Emotional Competencies from the Ground Up – A Tanzanian Example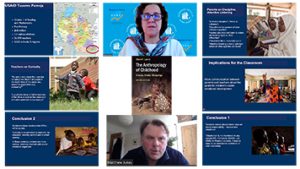 The Advancing Education in Muslim Societies (AEMS), Human Development series, held its fourth webinar and the first of 2021 on March 11th. The series aims at bringing voices of experts from various fields of social sciences and more specifically education and human development to discuss their research in different contexts. Dr. Matthew Jukes was the guest of this fourth webinar. He is a Fellow and Sr. Education Evaluation Specialist at the Research Triangle International (RTI).
Dr. Jukes presented three studies on building social emotional competencies from the community up using the example of Tanzania. He suggested that "Most of the research that informs our understanding of children's social-emotional learning (SEL) comes from Western, Educated, Industrialized, Rich, Democratic (WEIRD) societies where behavior is guided by a view of the self as autonomous, acting on individual preferences. In the subsistence agricultural communities (home to more than a quarter of the world's population), obligations and communal goals override personal preferences and individuals see themselves as part of a social hierarchy".
Dr. Jukes engaged the audience in field-based insights on measurement and the impact of cultural and social conditions on determining those in several African countries. The questions and answers session was interactive and informed the audience of 80 participants who asked thoughtful and informative questions.
The webinar was moderated by Dr. Ilham Nasser, Director of the Human Development Program.