When New American Muslim Youth (NAMY) come to the USA as refugees, they try their best to integrate and assimilate in their new communities. Generally, many NAMY might lack adequate literacy or formal education due to personal or societal factors that made them flee their homelands and seek refuge in other countries. While many NAMY may already be literate in their native language such as Arabic or Kurdish, they are introduced and exposed to a new language which they have to learn and use properly in their host countries. In this post, I reflect on some of my observations as a volunteer English instructor at The New American Consortium for Wellness and Empowerment Center (WE) in the Fargo/Moorhead area in North Dakota and Minnesota while I was taking a course in Participatory Action Research (PAR) as part of my PhD graduate work at North Dakota State University (NDSU). The Center is one of the main interventions in the area that aims to help new Americans in achieving integration and assimilation in their refugia by addressing some of their essential needs such as employment, literacy, and citizenship.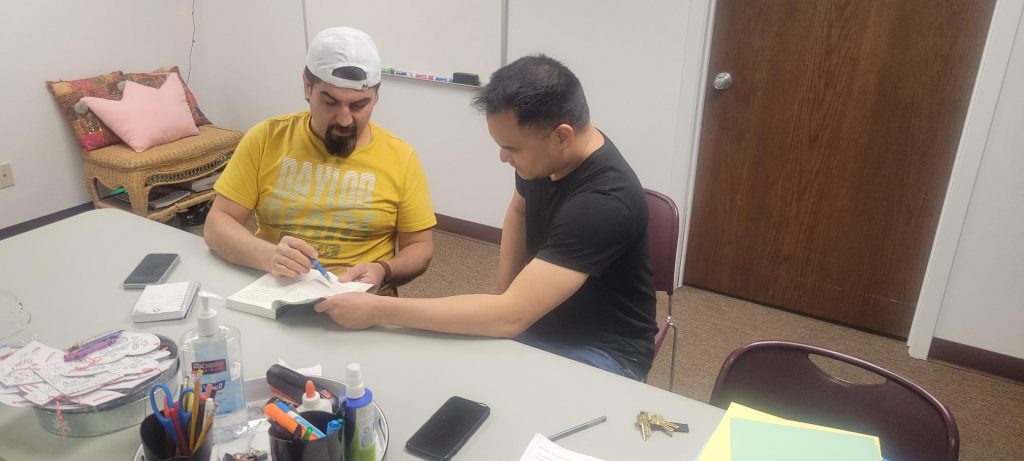 The Pursuit of Literacy in Refugia
Donna Haraway (2016) defines refugia as "one way to live and die well as mortal critters in the Chthulucene is to join forces to reconstitute refuges, to make possible partial and robust biological-cultural-political-technological recuperation and recomposition" (101). Thus, recuperations and recompositions should be accessible with a view to help NAMY to feel at home in their refugia.
Literacy reflects an essential educational objective for NAMY. During my work at WE, I noticed that many NAMY struggled in their new educational milieu in relation to the instruction and schooling they received. For example, one female student could not do her homework because her high school teacher had not provided clear guidelines. Further, while I was trying to help her understand the work, I noticed that she wrote with no spaces between words making her English illegible. When I asked her about it, she answered that she did not receive any instruction or guidance about how legible writing in English should be. Another male student was frustrated because other students in the class made fun of his English due to grammatical mistakes. He mentioned that his teachers did not bother to address or remedy such a situation or guide him to the best resources to facilitate him. Such students seek out the WE center for assistance in literacy that the school failed to provide.
These and many other examples made me wonder whether the immediate placement of NAMY in their new educational systems could compensate for what has been lost. After all, without their struggles being properly addressed by their teachers and educators in refugia, learning to read the world and the word cannot be accomplished. When considering some of the NAMY challenges, I find myself reflecting on Bigelow's studies about Somali Muslim communities in the USA where she sees them as "assets" willing to learn the language but unfortunately are subject to "the high incidence of limited formal schooling" due to their previous history as refugees which in turn reflects "serious implications for learning academic content through traditional means" (2010, 42). Bigelow asserts that there are certain false assumptions and myths about these newcomers that presume that "[they] can and do learn academic content through reading and producing academic texts" and that "students begin schooling with a certain amount of background knowledge and experience with academic content" (42).
Lack of Academic Content and PAR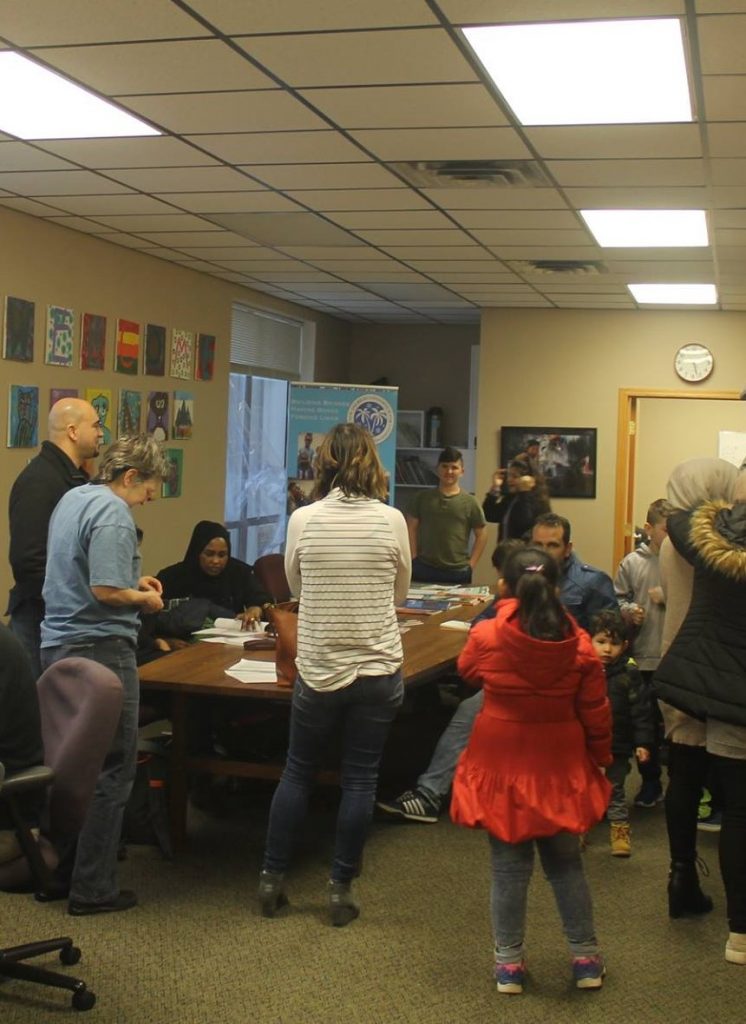 NAMY, thus, can have a serious lack of academic content leading to struggles with speaking, reading comprehension, and writing. In this regard, Bigelow contends that secondary schools "are often overwhelmed when they receive a newcomer adolescent who has never been to school" leading to his/her "needs being left unaddressed or addressed inappropriately" (Bigelow, 121). Here, PAR can be useful in enabling the educational system and educators to learn/know more about NAMY so certain training can be recommended for educators to become more aware, prepared, comfortable, and encouraged to address NAMY needs and contribute positively and actively towards their literacy in their refugia. PAR employs non-traditional academic approaches to work collaboratively with communities to make social change involving both the participatory action researchers as well as the subjects to offer some solutions to their needs and problems; in this case, in NAMY's "first experience with literacy … in a language that they are only just beginning to learn" (Herr and Anderson, 2014, 42). PAR researchers can offer assessments to determine the actual levels of academic content that NAMY possess to place them on the correct levels in their refugia. PAR can also create special intensive programs that can address NAMY literacy issues before taking formal schooling. In this way, I suggest, it will not be overwhelming for the student, the educational institution, or the teacher. This initiative should be undertaken in collaboration with recognized local, state, and/or national institutions or organizations to offer expedited solutions and remedies to the problems of literacy and lack of prior formal education of NAMY.
The Role of PAR in Refugia
Refugia, thus, is not only a physical place where people feel safe from harm, but rather it is a unique constellation of various factors that work hand in hand to create that space along with the many evolving interactions, reactions, and actions that can transform NAMY rhetorical and academic needs into something they can feel and see. PAR can investigate the phenomenon of NAMY's lack of literacy and offer tangible solutions to create new American citizens who can function and contribute confidently and productively in their refugia.


Works Cited
Bigelow, Martha H. Mogadishu on the Mississippi: Language, Racialized Identity, and Education in a New Land. Wiley-Blackwell, 2010.
Haraway, Donna J. Staying with Trouble, Making Kin in the Chthulucene. Duke University Press, 2016.
Herr, Kathryn, and Gary L. Anderson. The Action Research Dissertation: A Guide for Students and Faculty. Sage Publications, 2014.