---
IIIT Workshop on Islamic Learning in Ukraine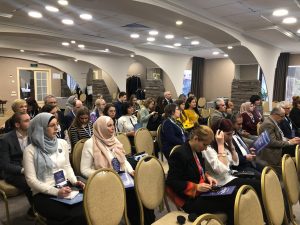 The two-day educational and research workshop "Islamic Learning and Education in Eastern-Central Europe: Historical Features and Contemporary Perspectives" concluded on February 29 in Kyiv, Ukraine. The event was co-organized by the Center for Islamic Studies, The National University of Ostroh Academy, Oriental Division, Institute of Philosophy, The National Academy of Sciences of Ukraine and Association of Educational Development, and co-sponsored by IIIT. The academic event gathered more than 20 scholars from Ukraine, Poland, Lithuania, Moldova, Georgia, Azerbaijan and Malaysia.
The Conference keynote speaker, Dr. Prof. Abdelaziz Berghouth from the International Islamic University Malaysia presented common experience of writing and revising the contemporary curriculum of Islamic education, which could be widely used in various parts of the world. Workshop topics emphasized the new Islamic educational projects and the majority of participants agreed that new developments in Islamic learning could be proceeded more effectively if using the paradigm of the Islamization and Integration of Knowledge.
The workshop – which was attended by a group of students from leading universities of Ukraine-  gained much attention in the terms of productive sessions and fruitful discussions, dedicated to the historical and contemporary features of Muslim education in the region. In addition to the presentations, there was an exhibition of the newly published IIIT books that have been translated into Ukrainian and Russian languages.